The ability of 3D printing to enable users to create highly accurate and fully customizable devices is crucial in an industry like dental where perfectly fitting parts are required due to the large differences between individuals. For this reason, 3D scanners specially designed for the dental industry are increasingly popular. Generally, these scanners are of two types, intraoral scanners which allow dentists to scan directly into a patient's mouth and laboratory scanners which are designed to scan impressions from a patient's mouth. Both have advantages because they are used in different ways, but for 3D printing it is often laboratory 3D scanners that are used. We present in alphabetical order the best 3D laboratory scanners used in the dental industry to help users understand the products currently available on the market.
7Series of Dental Wings
The 7Series model and the Dental Wings impression scanner are offered in two versions, Synergy and Productivity. Both models are capable of scanning models and impressions and are suitable for medium to large dental labs, according to the manufacturer. The 7Series Synergy offers the advantage that users can also scan full dentures and bite splints, and orthodontic models can be archived. Both versions have an automatic scan and design wizard. The accuracy is 15 µm and it takes approximately 44 seconds to scan a model. An STL file is created for export. The unit has 5 axes and has a scan volume of 140 x 140 x 140 mm (5.51 ″ x 5.51 ″ x 5.51 ″).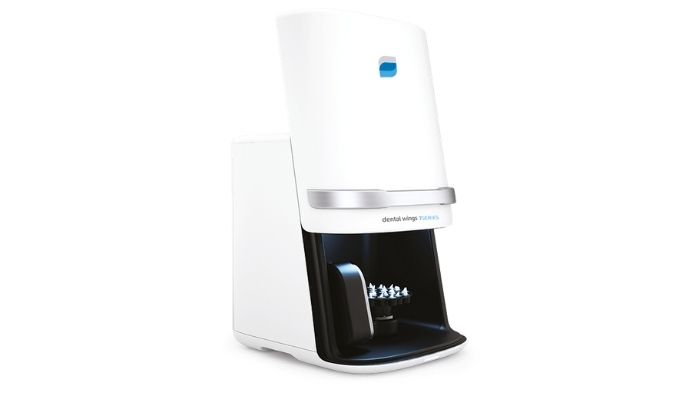 SHINING 3D AutoScan-DS-EX
Chinese manufacturer SHINING 3D is known for its independent research and development of 3D scanning technologies. Their scanners are suitable for many different industries, but the company also offers several suitable for the dental industry. Their digital dental solutions include laboratory scanners, starting with their entry-level model, the AutoScan-DS-EX. This scanner uses structure light 3D scanning, can scan a bite in about 13 seconds. What's particularly interesting is that it also offers a clinical mode, which would allow users to be directed directly to dental clinics for chairside restoration solutions. Its dimensions are relatively large at 10.2 "x 10.6" X 16.5 "(260mm x 270mm x 420mm). For those looking for more advanced models, SHINING 3D also has the AutoScan-DS -EX Pro which uses blue light and stands out for its fast scanning speed, taking just 8 seconds for a bite scan and the AutoScan-DS-MIX which is perfect for top implant and veneer applications. range thanks to its precision ≤ 7 µm and its larger dimensions The analysis is exported as an STL file and is compatible with most CAD / CAM software and hardware on the market.
Ceramill 600+ card from AmannGirrbach
The Ceramill map 600+ from the manufacturer Amann Girrbach is a high-performance scanner with three axes and an open installation space, which allows easy handling with an integrated universal support plate. The scanner uses blue light technology and a 3D sensor to produce an HD scan with an accuracy of 4m. With intelligent DNA speed scanning, a complete jaw scan is created in 18 seconds as an STL or PLY file. The Ceramill map 600 weighs approximately 55 lbs (25 kg) and has a size of 16.3 "x 16.9" x 18.5 "(415 x 424 x 469 mm).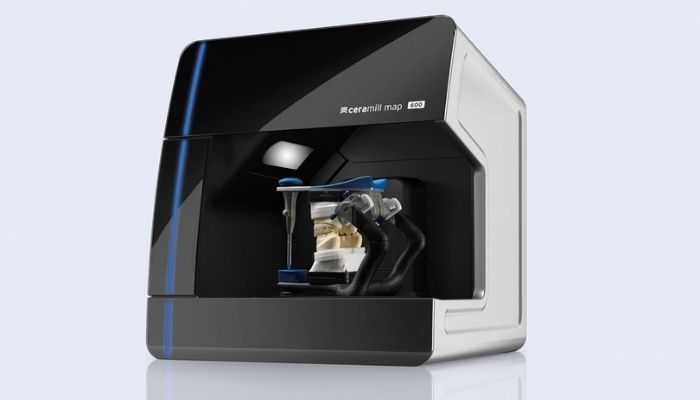 CADstar CS.Neo Pro
CADstar is an Austrian manufacturer who has developed a range of 3D scanners for laboratories. The CS.Neo Pro is one of them / Designed for professionals, it can do a complete scan of a denture in just 12 seconds. Available in three colors (white, gray or black), the dental scanner offers an accuracy of 5 microns and the ability to scan colors. Based on the structured light process, it offers three export formats: STL, OBJ and PLY.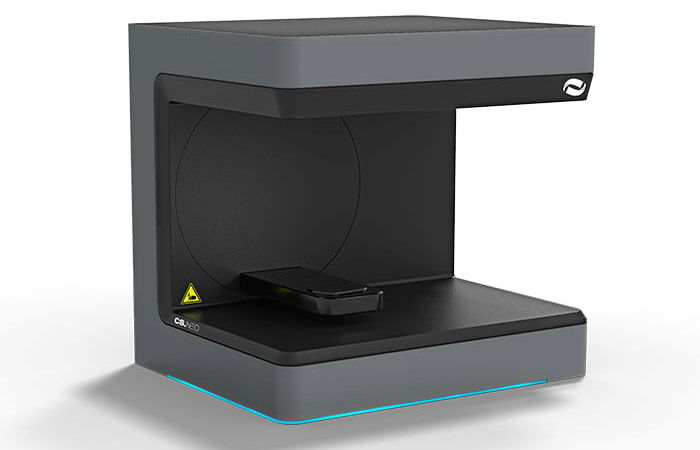 DScan 5 from EGSolution
The DScan 5 is the latest dental scanner developed by the Italian manufacturer EGSolutions, launched in 2020. Based on the structured light process, it is equipped with a camera offering a resolution of 13 megapixels. Its acquisition volume is 3.5 ″ x 3.15 ″ x 2.16 ″ (90 x 80 x 55 mm), allowing easy scanning of impressions, implants, crowns, etc. The DScan 5 offers an accuracy of 0.005 mm and 4 export formats: STL, PLY, OBJ and ASC. It thus meets the needs of dental clinics and laboratories.
E4 from 3Shape
3Shape was created with the stated purpose of improving 3D scanning. Although they first worked in the hearing industry, the company has since turned to dentistry and strives to improve dental care through digital solutions. They have many different scanners, including intraoral ones, but among their lab scanners the most famous is the E4. According to 3Shape, the E4 is double the speed and accuracy of its predecessor the E3, with double the cameras. The scanning speed of the full arch is approximately 9 seconds and the accuracy is 4 microns, which makes it suitable for implant cases. The scanner has four 5 MP cameras and is suitable for catering and speech therapy applications.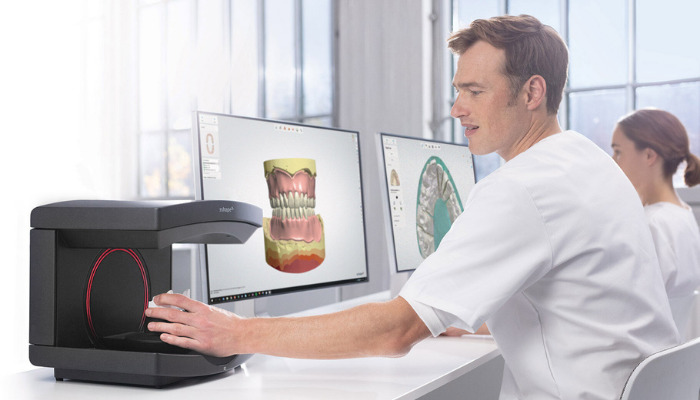 Zfx Evolution Plus
Developed by prosthodontists for prosthodontists, the Zfx Evolution Plus 3D scanner has a scan volume of 5.5 "x 3.15" (140 x 80mm) and an accuracy of less than 9m. The Zfx scanner is based on the structured light process, and allows the simultaneous recording of 12 matrices thanks to its Multi-Die tray. Finally, thanks to the "Ready for 3D printing" function, the scanner generates an stl file, compatible with any 3D printer.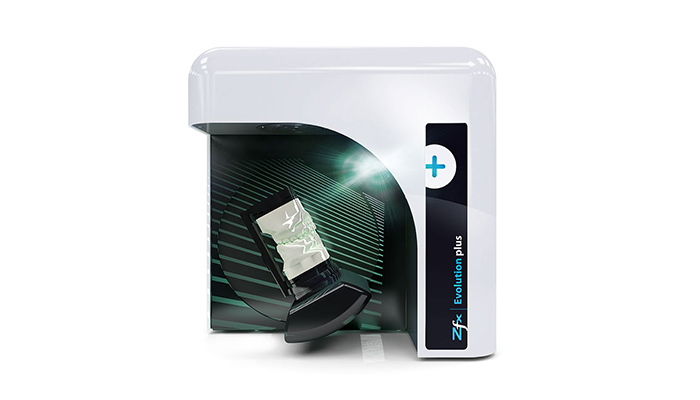 inEos X5 from Dentsply Sirona
The next scanner is the inEos X5. This was started by Dentsply Sirona, a merger of DENTSPLY International Inc. and Sirona Dental Systems, in 2013. Unique 5-axis scanning technology, robotic arm and its wide range of motion make the inEos X5 a versatile scanner with precision digital acquisition. Models and impressions can be digitally scanned, so the scanner, which weighs approximately 88 pounds (40 kg) and has a volume of 18.7 "x 28.9" x 18.1 "(474 x 735 x 460 mm), can be used for many different indications. The scanned data acquired with the inEos X5 can be flexibly integrated into the subsequent workflow – either via STL export or via data transfer without wire to the inLab CAD software.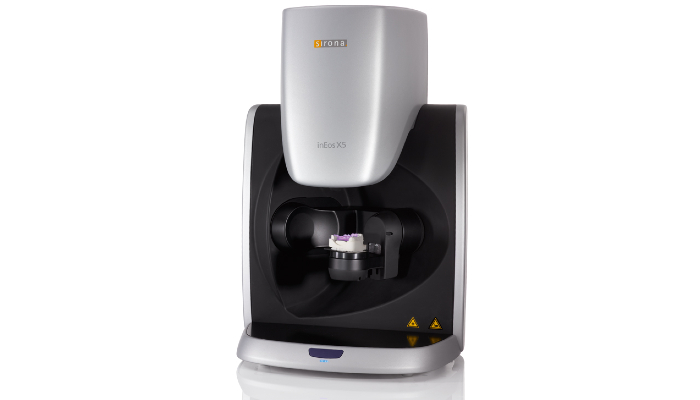 S600 ARTI from Zirkonzahn
With an accuracy of less than 10m, the Zirkonzahn S600 ARTI 3D scanner is based on structured light technology. Also intended for the dental sector, the Zirkonzahn 3D scanner offers users the ability to scan in color, a feature that can be beneficial for the creation of dental stellars. In addition, the machine can export files in STL format, but also in OFF, OBJ and PLY formats.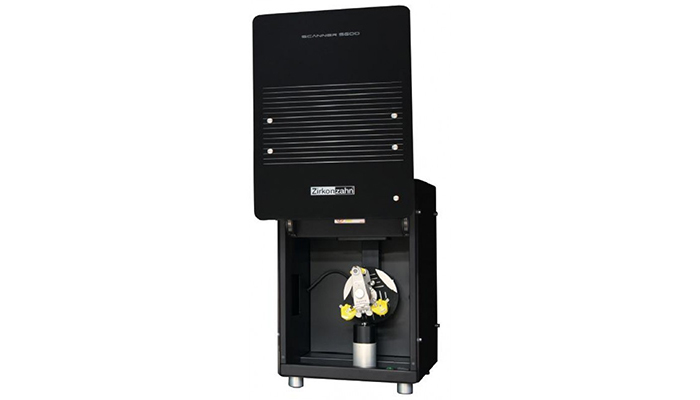 Medit T-Series
The manufacturer Medit is one of the pioneers in the development of 3D oral scanners in the dental industry. In particular, it is known for the Medit T series, which includes the T310, T510 and T710 models. According to the manufacturer, this is one of the most effective dental solutions to date. With included hardware and optimized 3D scanner software, professionals will be able to scan complex parts in seconds. It offers an accuracy of 4 microns (ISO 12836) and the ability to export files in STL format, so that they can be easily modeled in any design software, as well as prepared for 3D printing. The advanced technology of the T series guarantees high quality and high precision models in accordance with the strictest international standards, making them ideal for use in the dental sector.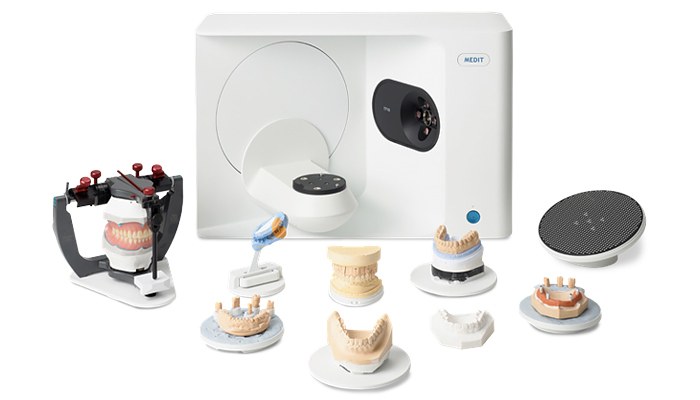 Would you be interested in a dental 3D scanner? Let us know in a comment below or on our Facebook, Twitter and LinkedIn pages! Sign up for our free weekly Newsletter here, the latest 3D printing news straight to your inbox!