The Navy recently deployed an updated 3D printer to the amphibious assault ship USS Essex, an upgrade that promises wider capability and a safer working environment.
Essex became the first to use a Xerox ElemX 3D printer while underway when it took the machine on board July 8, said Lt. Cmdr. Essex Intermediate Aircraft Maintenance Officer Nicolas Batista. The printer was installed in time for the ongoing Rim of the Pacific multinational exercise in Hawaii and California.
The Navy and Department of Defense are focused on implementing new technologies, a Xerox official told Stars and Stripes.
"The advantage of the ElemX is that unlike other metal 3D printing technologies that use dangerous and potentially explosive metal powders, we use aluminum wire as the input material," said Wednesday by email Tali Rosman, General Manager of Xerox Elem Additive. "This means there is no need for personal protective equipment or special facility modifications, making our technology more easily deployable aboard a military vessel."
3D printers are not new to the US military. Marines are finding new applications for printers to keep their equipment running and repaired in the field, away from conventional supply lines.
The Essex had a uPrint polymer 3D printer on board during its deployment from July 2018 to January 2019, Batista said. The ElemX, unlike the uPrint, uses 4008 aluminum standards which can handle higher loads and are stiffer.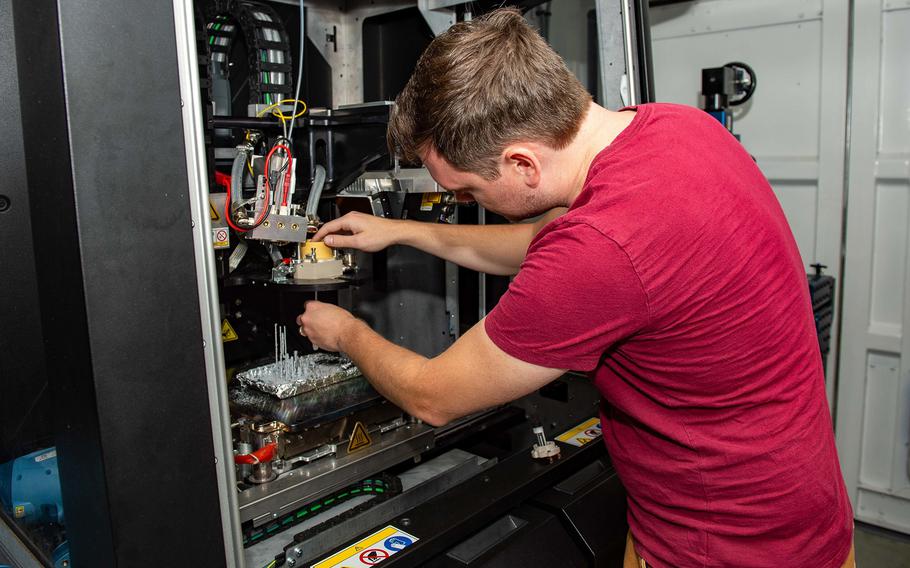 Additionally, ElemX requires minimal post-processing, delivering a finished part in hours, as opposed to days with other 3D metal technologies, Rosman said.
The printer is in the composite shop at Essex Aircraft Intermediate Maintenance, Batista said. The workshop works on airframes, avionics and aircraft support equipment. The Engineering and Combat Systems Shop also has technicians trained to operate the printer.
Batista said the crew printed many items, including small hydraulic valve wheels, fire hose wrenches, and light brackets.
"This 3D printer will essentially fill the gap in some of our supply chain gaps by providing organic repair capability in printing much-needed tools and parts, which improves our capabilities to increase material readiness. on an expedited turnaround," Batista said.
Petty Officer 3rd Class Roxanne Barrera, 22, an aviation structures mechanic from Torrance, Calif., briefed Secretary of the Navy Carlos Del Toro on Tuesday of the ElemX, said the device is important because it makes parts more readily available to the crew.
"This could be very beneficial for aviation parts in the future, and I'm excited to see this come to fruition," Barrera said via email.
The printer is rated at sea on its performance based on the vessel's speed, humidity, temperature and sea state.