Effective home office organization is a win on two counts. First of all, keeping everything from office supplies to documents ordered and quick to locate makes it much easier to focus on the tasks at hand.
But the other benefit of good organization is a clutter-free room that you enjoy spending time in. As part of a home and with many of us spending long hours in home offices, an environment with a look we love is essential, and excess stuff will compromise that style.
Here we've rounded up the best ways to organize and order a home office, organize a desk, and also asked the experts to share their wisdom.
Organizing a home office
"Everyone has their own idea of ​​what the perfect home office looks like: a place where you can sit and work, create and be inspired," says Sarah Dunn of business organization Get It Dunn. "But having an organized desk is more than just thinking about how it looks; if done correctly, decluttering your desk can also simplify your workflow and improve your focus.'
Take a look at these ways to organize a home office.
1. Organize the contents of the room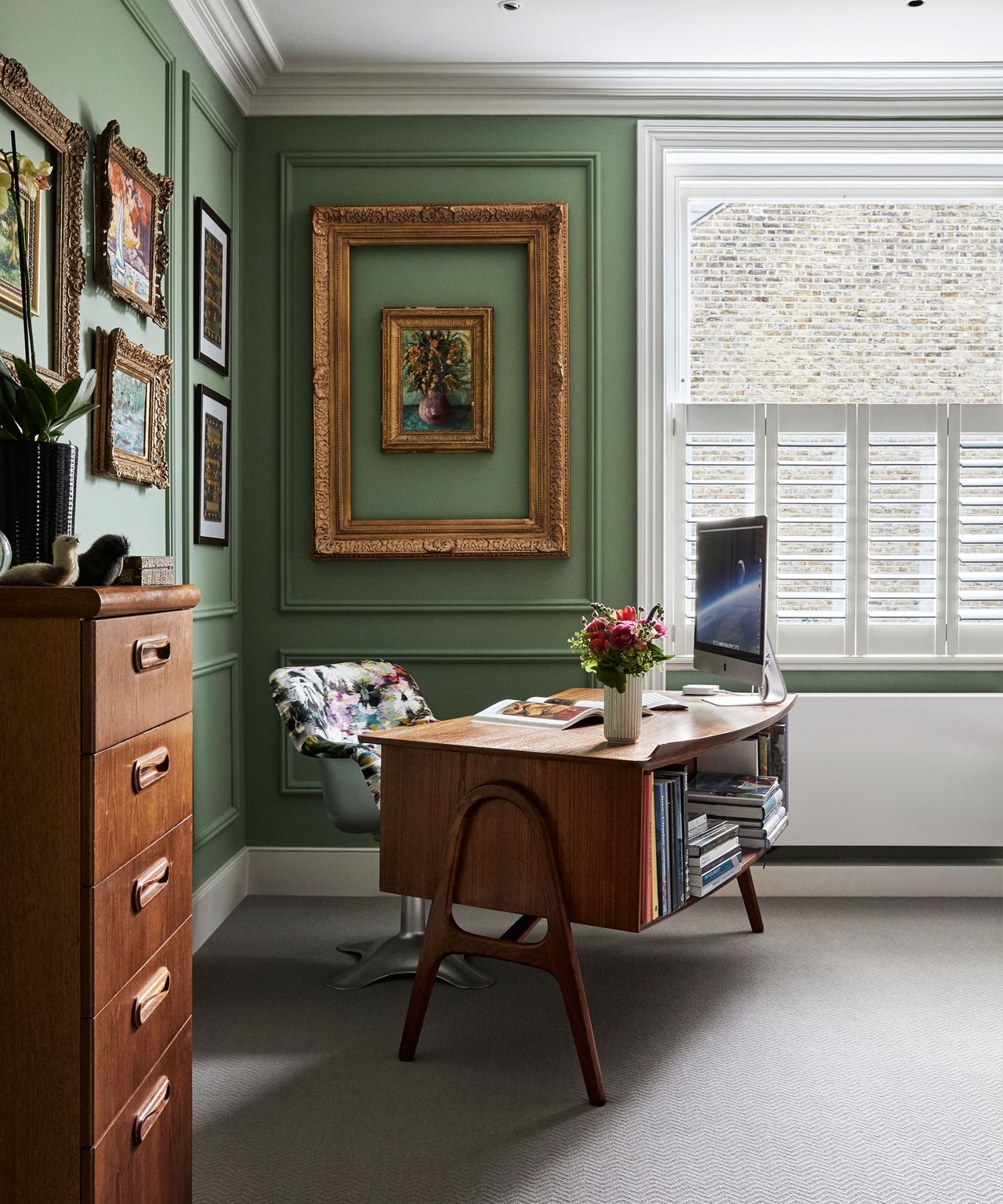 Before arranging a home office, it is important to decide what should actually be in the room, especially if it is a small home office.
"Make sure your office has only 'office' items. It can easily become a dumping ground for other things to do," says Katy Winter, founder of Katy's Organized Home. This doesn't preclude retaining what inspires and is beautiful, but it does mean excluding items that belong elsewhere in the home.
Also take the opportunity to review all of its content. "Get rid of anything you no longer need," advises Sarah Dunn. "This includes broken or old stationery equipment and supplies."
2. Zone the room for efficient organization
It's worth thinking about your home office ideas in terms of zones to organize the space efficiently. "It's best to set up three main work areas for your home office, with the first being an area you use frequently," suggests Jessica Samson, cleaning expert at Maids.com.
"This area should contain the items you use every day, such as files, folders, books, calendars, and other office items. Area two should be out of the way, but easily accessible. This area should include books, files, folders, and other items you only need occasionally Zone three should be out of the way and include office supplies.
3. Handle the paperwork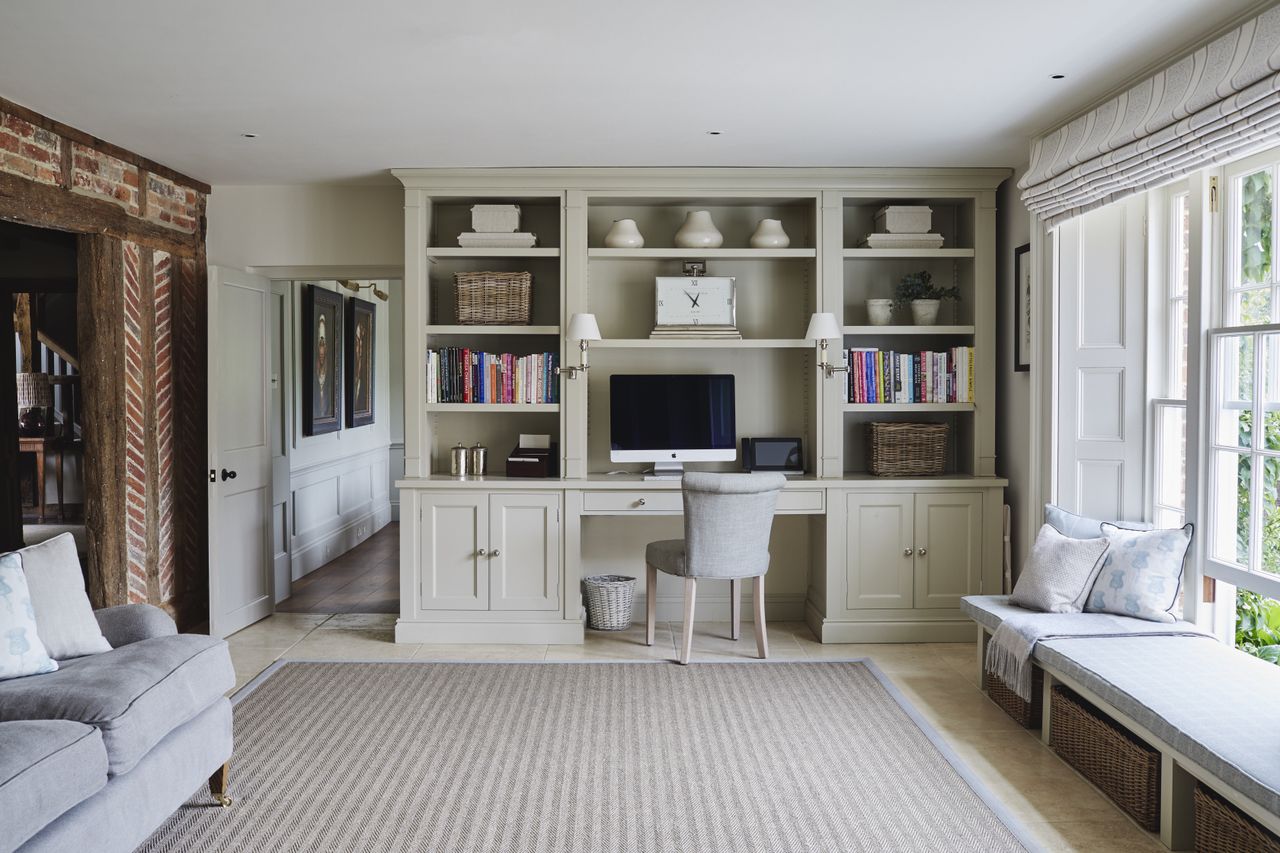 A home office often holds a family's essential records. 'Your records should contain the following information: originals of your birth certificate; social security card; any permanent records you have about your child(ren); at least the last three years of your tax returns; all documents related to the house, including insurance policies; any other essential documents that are personal to you," recommends efficiency expert Jaclyn Strauss of 2nd Vault. Label the folders where these are kept, she advises.
4. Go digital when you can
When thinking about home office ideas, it's worth considering how paper-free you can be when organizing a home office. "A full three-drawer filing cabinet can hold up to 1,800 sheets of paper, and the goal shouldn't be to approach that amount in our home office," says Jaclyn Strauss.
"Get into the habit of subscribing to paperless options for your bills, statements, and even reading," suggests Laura Fenton, author of The Little Book of Living Small. "Scan the documents that are still in paper form and recycle the originals. I use the Tiny Scanner app, but there are many scanner apps out there.' There are also digital tools, such as 2ndVault, that can help avoid a backlog of paperwork.
5. Clean up the office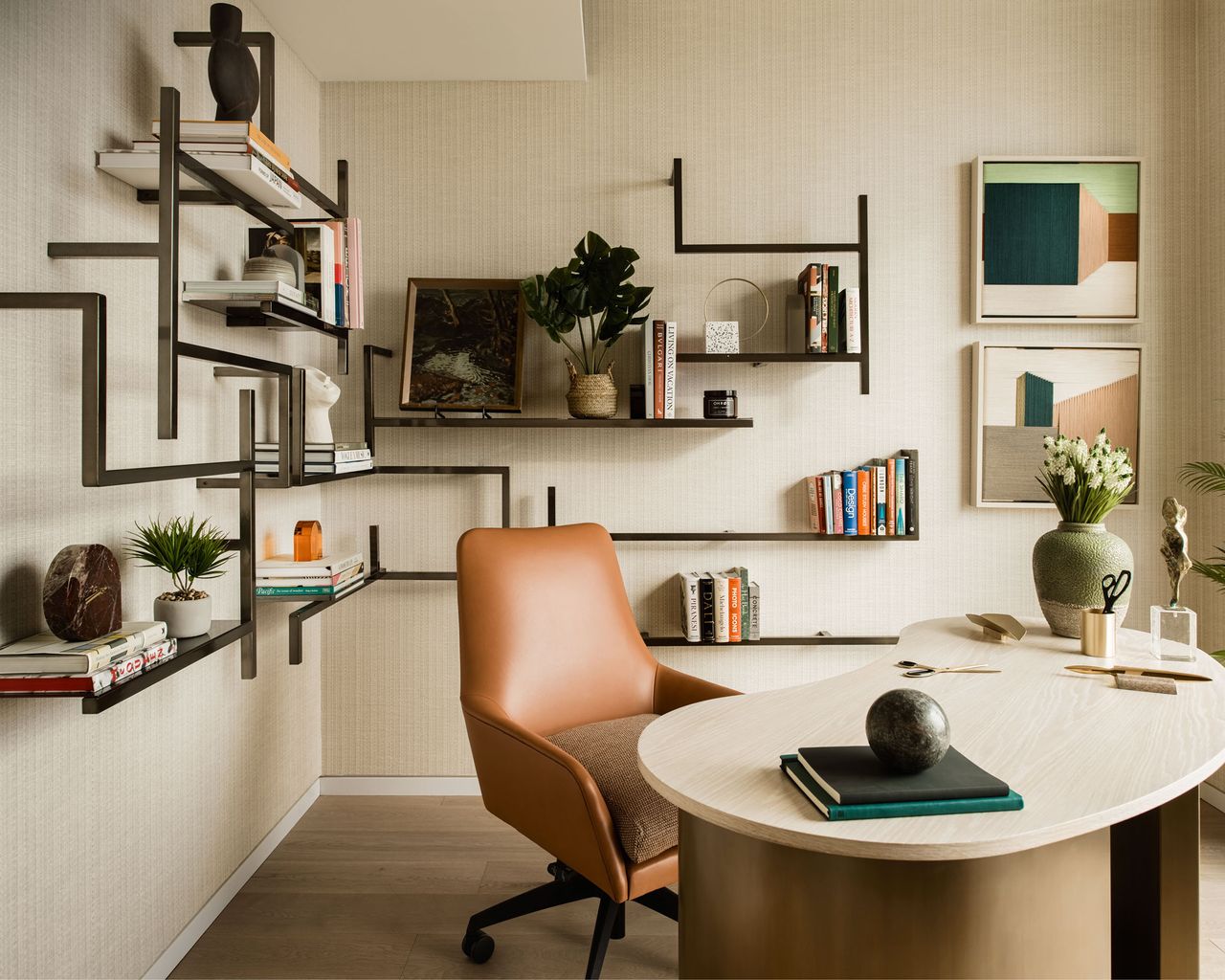 A home office setup and a messy desk are distracting – and it will detract from the look of a home office. Keep only what is needed on the desk. "Either have a drawer with pens and markers or store them in a nice holder," says Brenda Scott.
For ongoing documents that need to be put on the desk? "I suggest a horizontal desktop document holder for the items you are working on. Separate the "urgent" into one slot and the "get there" into another slot, or "inbound" and "outbound," Brenda recommends. "You can have as many stacked office files as you need to organize your current work, then label the locations to keep everything in its place."
We also advise you to make the most of your wall space. Invest in beautiful office wall decor ideas to ensure your office stays clean and tidy.
6. Corral Office Supplies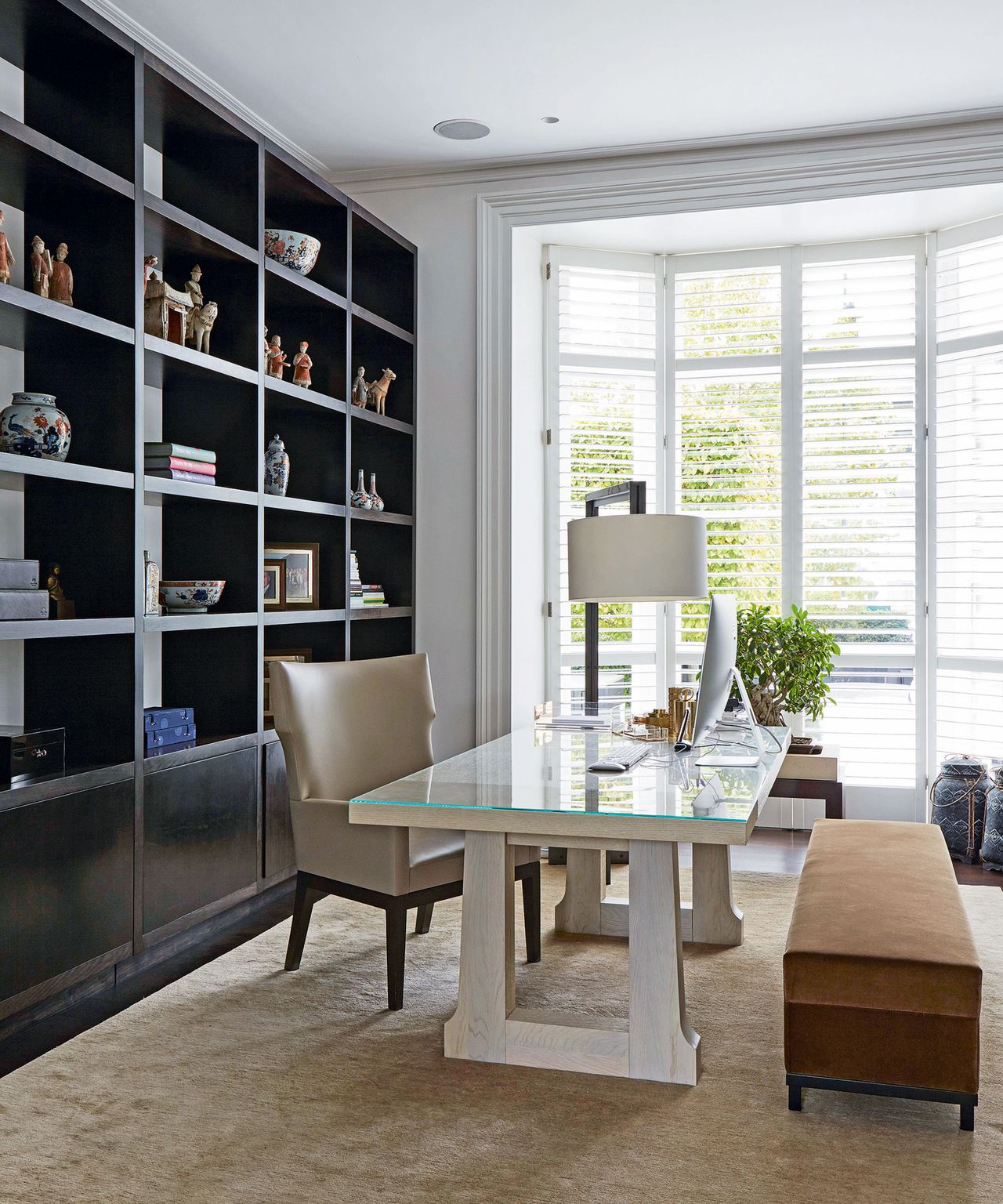 Put office supplies in a closet or cabinet in the home office. "Sort items together, get rid of items you no longer need, don't want to use, or don't work that contain items, and label bins, baskets, or containers," recommends Amy Vance, owner an Eco Modern Concierge, which offers advice on productivity, professional organization and personal assistance to businesses and individuals.
It's tempting to buy supplies in bulk, but it can create clutter and make organizing a home office a more difficult task. "Yes, a paper crate is cheaper than buying by the ream, but consider how much space it will take up in your home and how long it will take you to use it," says Laura Fenton.
7. Think about printer locations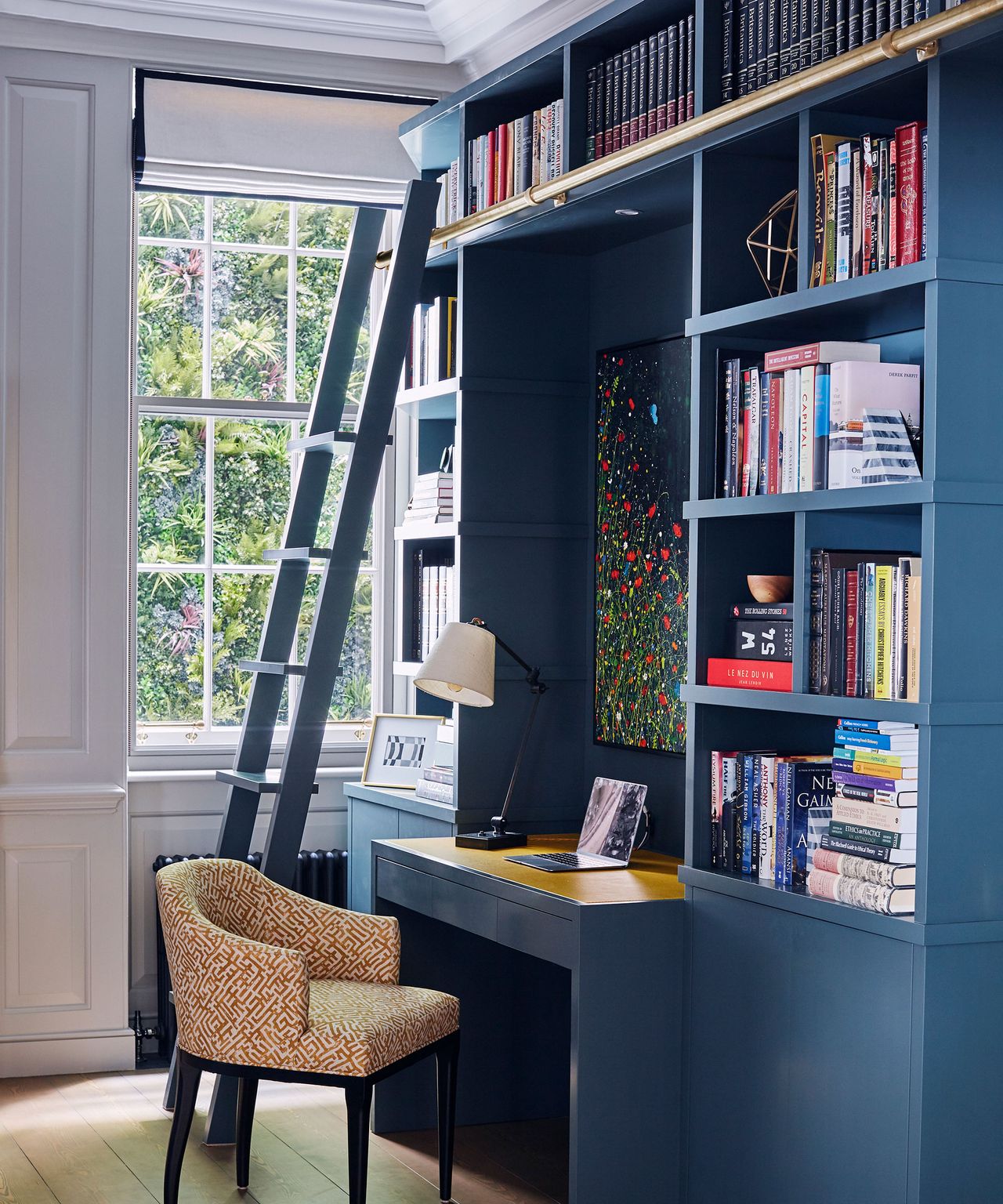 How often things like printers and scanners are needed should be considered when organizing a home office. "If you use a printer or scanner frequently, make sure it's easily accessible and near your workspace," says Anna Franklin, interior designer and founder of Stone House Collective. "However, if you only use a printer occasionally, store it in an easily accessible cabinet when needed instead of displaying it on a shelf out in the open."
Also keep in order what goes with other technologies. "Use bins with lids to store chargers and computer accessories when not in use," says Pattie Kelly, certified interior designer at Inspired Home Interiors.
8. Enjoy an office interior
Many home office design tips and office ideas are minimalist in style, but for a home office with more to organize, a desk with drawers or cubbies may be a better option. The same goes for a small office where it can be difficult to accommodate enough furniture.
For the interior of an office, order the documents in a way that makes sense to you. "Some use the alphabetical order, others use the subject of the information contained in the files, for example: taxes, bank, real estate, customers, personnel, etc.", explains Brenda Scott.
9. Use open shelving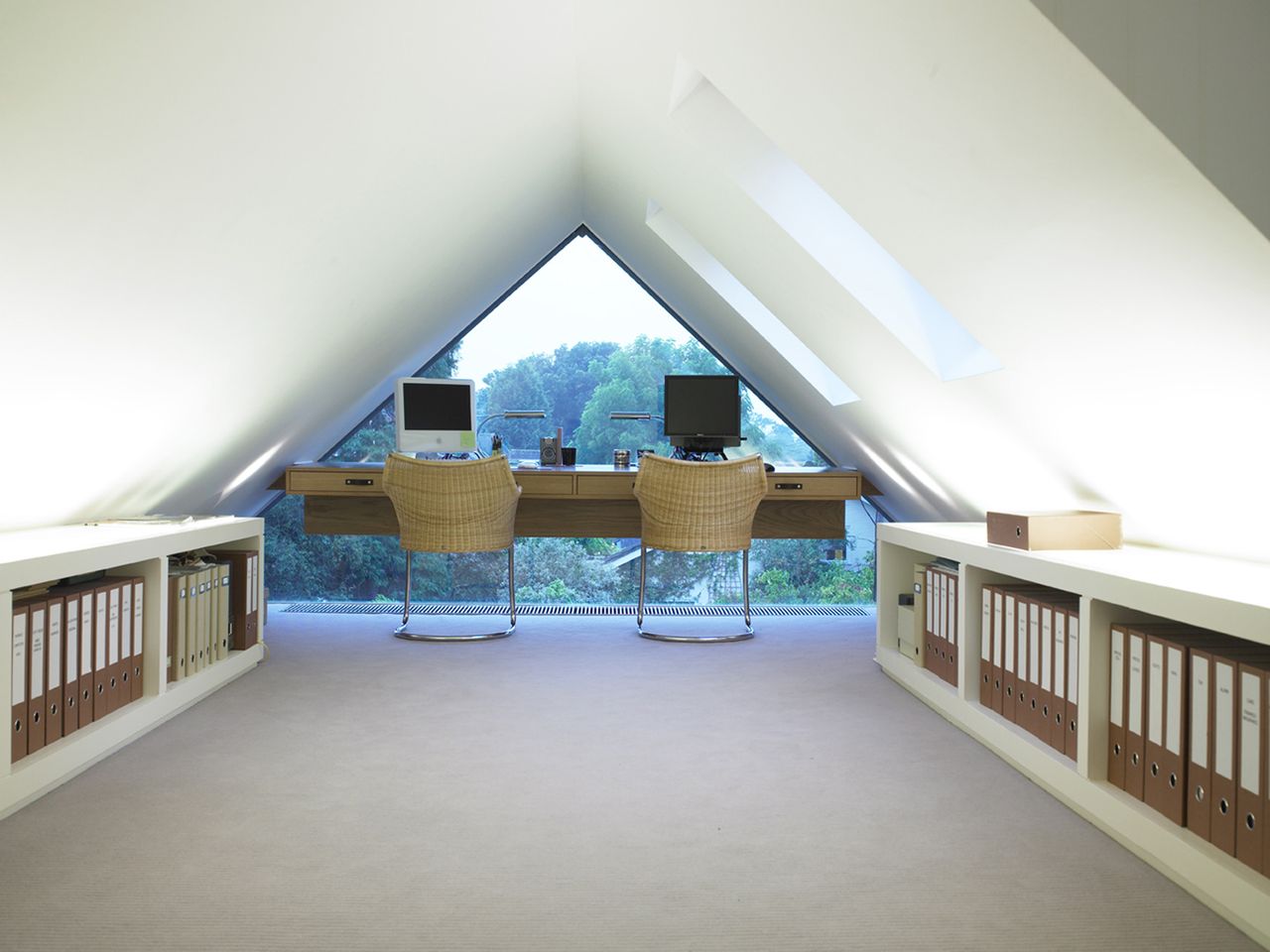 Open shelves can be a useful feature of a home office, but if they're also going to be attractive, office necessities should be hidden in plain sight. "Use an aesthetically pleasing bin or basket to store printer supplies, such as extra reams of paper, printer ink, etc.," Anna Franklin recommends.
If these are documents that need to be kept on shelves, choose matching boxes to hold them to create a pleasing visual impression.
10. Maintain a tidy home office
To keep a clutter-free home office, it's important to maintain the organization you've created. "Be careful what you print every day to avoid the accumulation of paper on your desk", advises Jaclyn Strauss.
'Could you do the work without having a physical copy of the document? If so, practice this approach first. Otherwise, print it out, use it, and recycle it in a trash can next to your desk. If you need to keep it, ideally file it at the end of the day, but if not, set yourself a Friday afternoon calendar reminder to file what's left on your desk that you need to physically keep.
How to organize a small home office?
To organize a small home office, it is important to limit what you keep there. "For most individuals and families, even a single filing cabinet is probably more document storage than you need. Instead, try a file box," suggests Laura Fenton. for office supplies, which for most people don't need to be plentiful.
Be sure to track paperwork, recycling, or shredding as appropriate, and only keep what needs special attention or is imperative to store.
Also keep the contents of the room clean. "Use bins, baskets, and zippered pouches when you need to store things," says Anna Franklin.
How to organize a home office for maximum productivity?
The way to organize a home office for maximum productivity is to declutter first, then gather what you need. 'Make a place for everything and get into the habit of putting everything back in its place at the end of each working day. It sets you up for success the next day and helps you transition from work to personal life," says Pattie Kelly.
Equally crucial is organizing and ordering a home office on an individual level. "Set it up for how it works every day," advises Brenda Scott. "Some things may look awkward if you're right-handed and the item is on the left side of the desk."