About 14,000 Navajo families still live without access to electricity, in addition to constantly having to oppose coal mining on their land. "We still feel the effects of mining today," said Jay Begay, president of Hard Rock Chapter House, Navajo Nation.
The Hard Rock Chapter House serves as a central meeting place where the Navajo community can congregate, and it recently received a free solar + battery storage system through a partnership between the nonprofit Empowered by Light (EBL) , Sunnova and Generac.
"With this new project, we can finally switch to renewable energy and show our entire community the benefits and resilience of nature by harnessing the clean energy of the sun to power our daily activities at the chapter house, while fighting against the climate change," Begay said. "Our community relies on the essential services provided at the chapter house because we live in a very remote area. The chapter's goal is to continually expand these services, and with the added savings on our new solar + storage bill, we aim to do just that – expand and improve our resources for the people we serve.
Through EBL, Sunnova identified this project as a key candidate for Sunnova's adaptive solar + storage solution, with the goal of offsetting chapter house electricity bills and ensuring community resilience. With more than 270 days of sunshine per year, the Navajo Nation is the largest contiguous premium solar resource area in the western United States, according to ScienceDirect.
"This project has been an opportunity for us to help make an impact by providing clean, reliable power, while lowering their electricity bills to help them reinvest the savings to strengthen their community," Kelsey said. Hultberg, EVP, Communications and Sustainability, Sunnova.
Sunnova worked with Fusion Power, a Sunnova reseller, to design a Sunnova SunSafe+ solar storage system to meet the needs of the community. Sunnova and Generac worked together to equip and finance the 18 kilowatt solar system and 36 kWh PWRcell energy storage system. Sunnova offers a full 25-year Sunnova Protect service warranty for the entire system.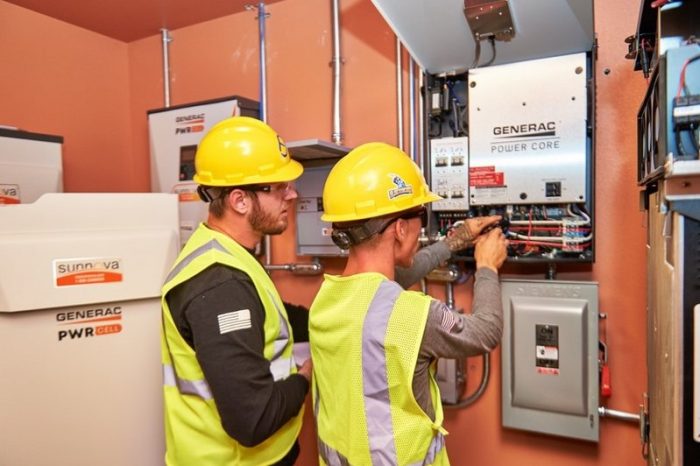 "In addition to having more resources for the community through utility bill savings from the Sunnova system, the Chapter House can continue to be a great resource for the community in the event of a grid outage," said Moira Hanes. , Executive Director and Co-Founder. , EBL. "Community members can continue to gather, cook, get emergency supplies and stay warm in the winter, as many homes do not have a heat source. »
A chapter house is similar to a town council where members of the community can meet for key meetings and have access to services, such as hay distribution, free garbage disposal, faxing, printing, notarization, clearing of unpaved roads, etc. Instead of having to drive long periods off the reserve to complete daily tasks, residents can stay local and even save money on gas.
Have you checked out our YouTube page?

We have a ton of video interviews and additional content on our YouTube page. Recently we debuted Power forward! — a collaboration with BayWa re to discuss high-level industry topics as well as best practices/trends for running a solar business today.
Our longer side project is Field — in which we have awkward discussions with solar manufacturers and suppliers about their new technology and ideas so you don't have to. We've discussed everything from trackless residential bridge fixing and home solar financing to large-scale energy storage value stacking and new utility-driven solar and home storage microgrids.
We also publish our project announcements for the year! Interviews with this year's winners will begin the week of November 8. Go ahead and subscribe today to stay up to date with all that extra stuff.
Tags: commercial and industrial, low income