HP Inc. (HPQ) is a company that keeps moving forward quietly. The company generated solid growth in 2021 despite supply chain issues as it was able to offset declining units sold with price increases. The stock is trading at 9x earnings and the company has shown a strong desire to return cash to shareholders. HPQ isn't the cheapest value stock out there, but with the share buyback program in full force, catalysts are already in motion for upside potential.
HP stock price
It seems that for a long time until mid-2021, HPQ has always traded as a value stock somewhat situated in the technology sector. The stock previously traded at mid-single-digit P/E ratios, but has since rebounded strongly and now trades at just under $38 per share.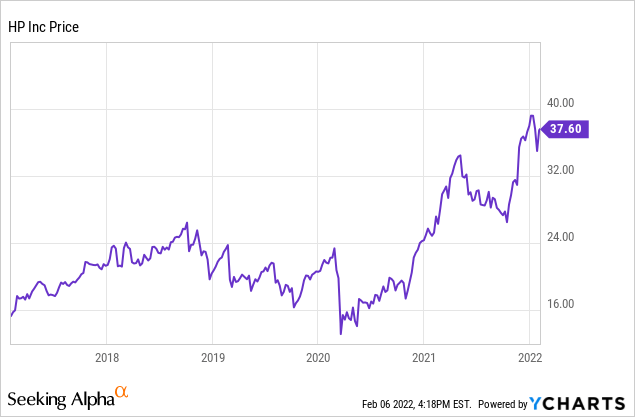 The stock is not as cheap as before, but maybe it was too cheap earlier. Still trading at a modest P/E ratio, HPQ still looks compelling as a stock pick.
What is HP?
I admit, my first impressions of HPQ were that it would be a print shop facing long-lasting, secular headwinds. Turns out my impression was very wrong, as HPQ is much more diverse – selling personal computing devices in addition to printers.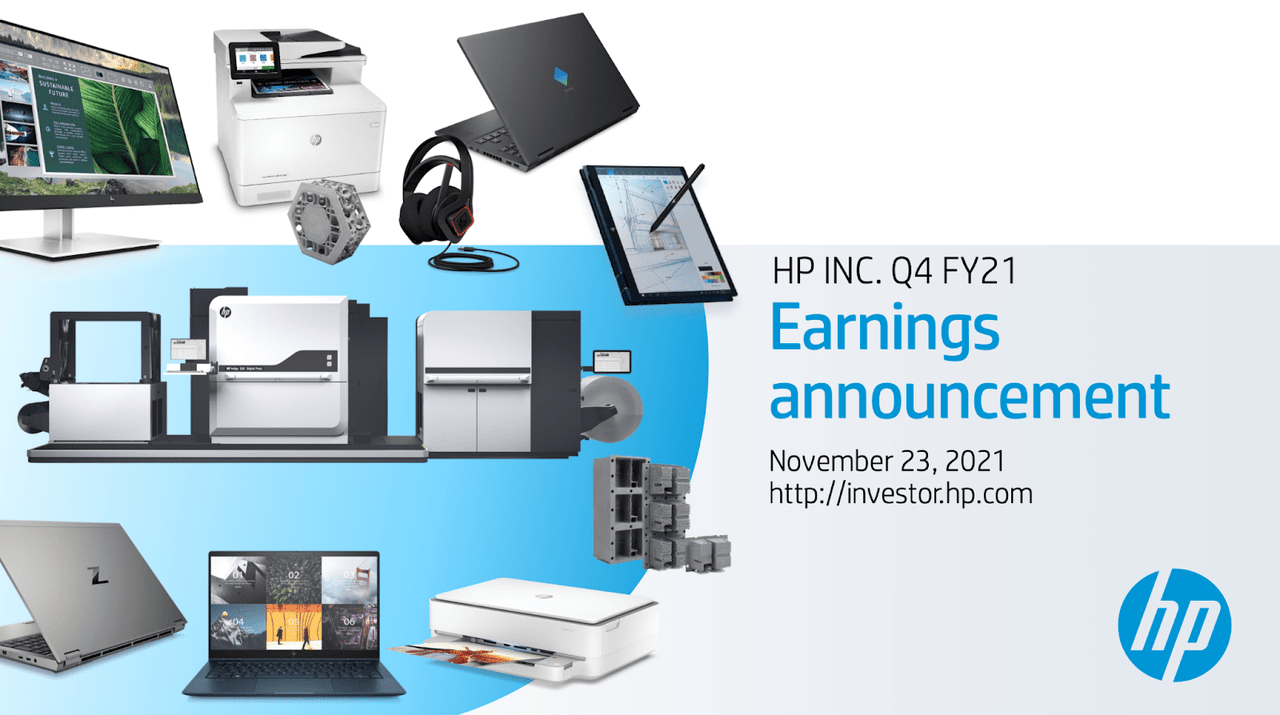 In fact, personal computer sales made up the vast majority of its business, while printing in total accounted for just 32% of revenue in the past year.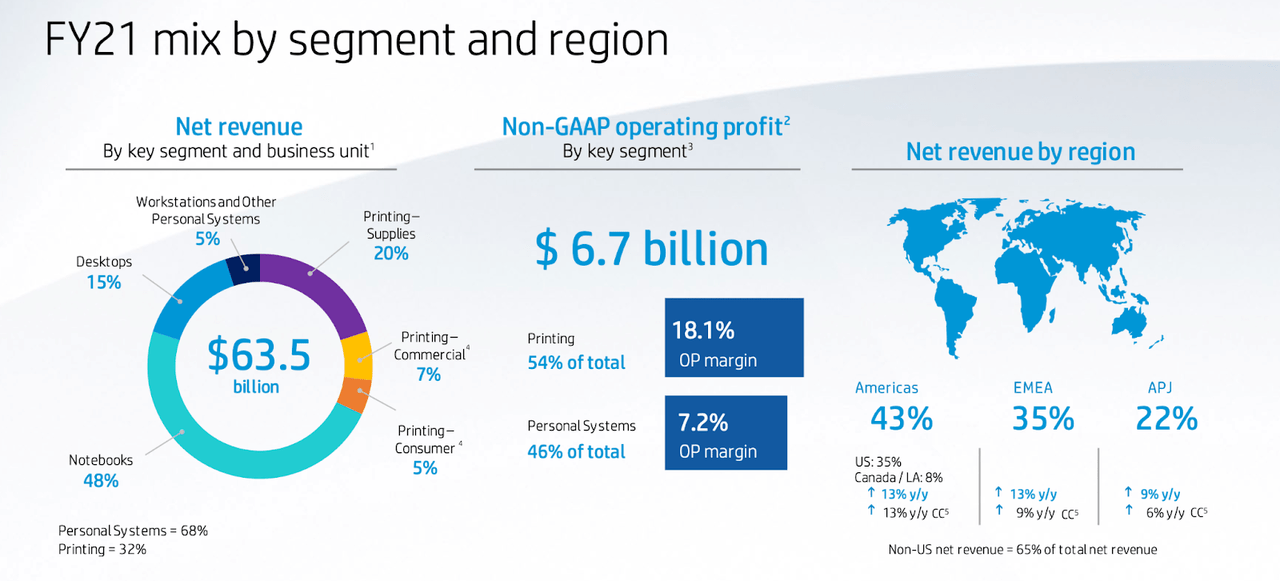 HP Fundamental Insights
The realization of the business model was a pleasant surprise, but to be clear, HPQ isn't exactly a growth monster. Sure, HPQ saw solid growth in 2021, but that was after seeing negligible growth in 2020.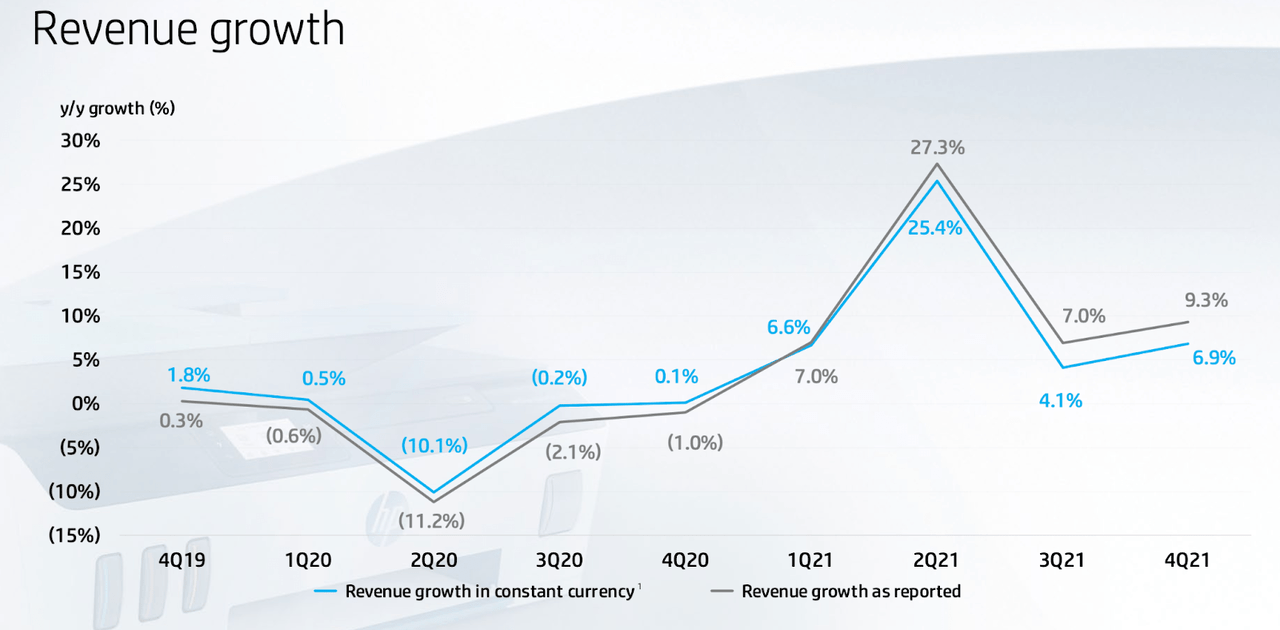 HPQ has generated consistent bottom line results. The non-GAAP numbers are more reliable because 2021 included $2.3 billion in litigation proceeds from its dispute with Oracle (ORCL). Even taking into account this large injection of cash, HPQ was able to increase its earnings per share by more than 50% year-on-year.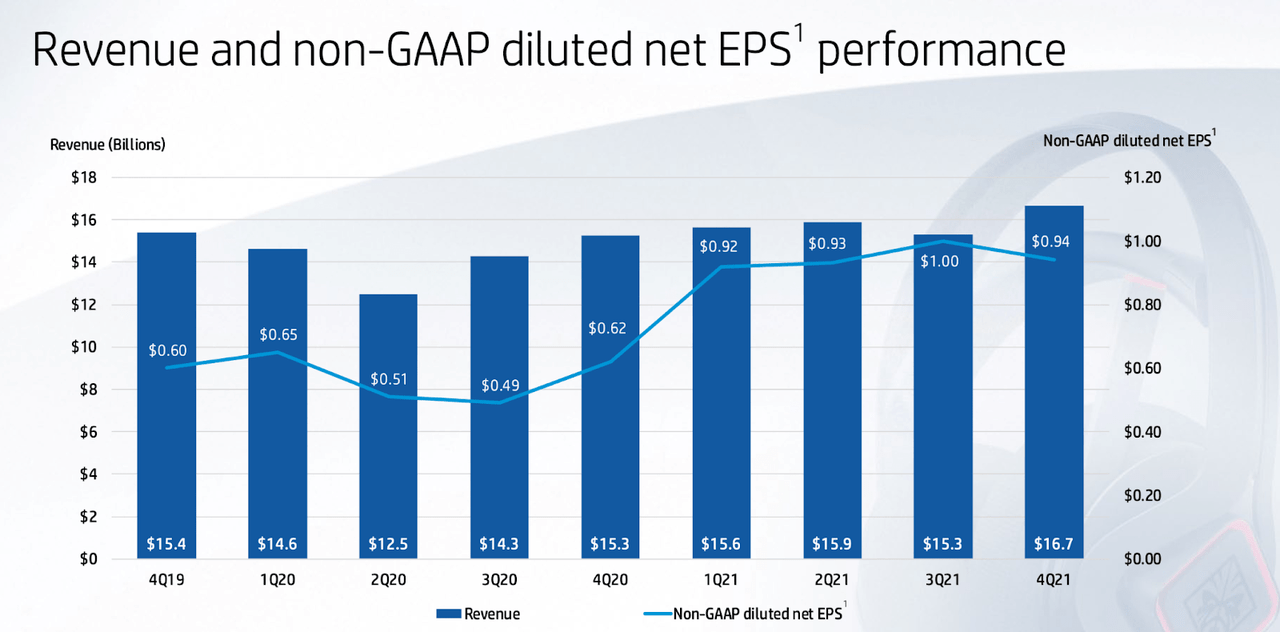 Some of this was due to stock buybacks, but most of it was due to operating leverage. While revenue grew only 9.3%, HPQ's thin margin profile allowed its bottom line to grow much faster. We can see that Personal Systems has an operating margin of only 6.5%.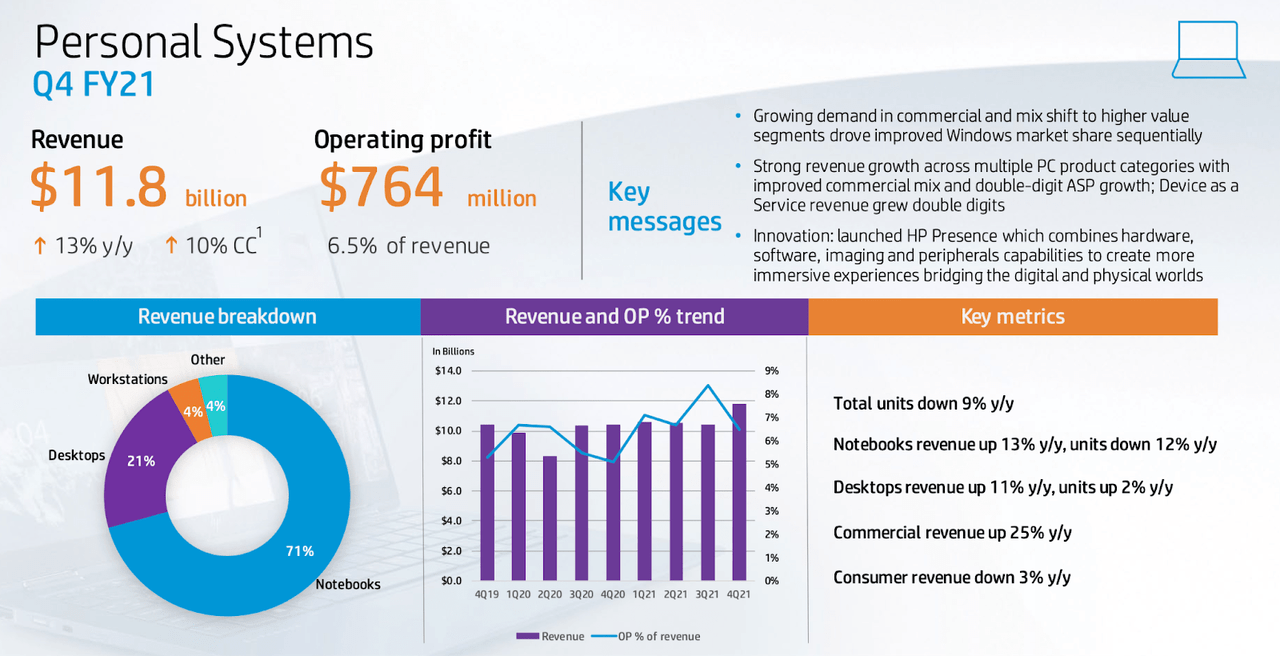 While the total number of units sold decreased by 9% year-on-year, sales still increased by 13%, indicating substantial growth in the average selling price. Printing has a higher but still low operating margin at 17%. Similar to Personal Systems, sales remained strong despite a decline in the number of units sold due to higher average selling prices.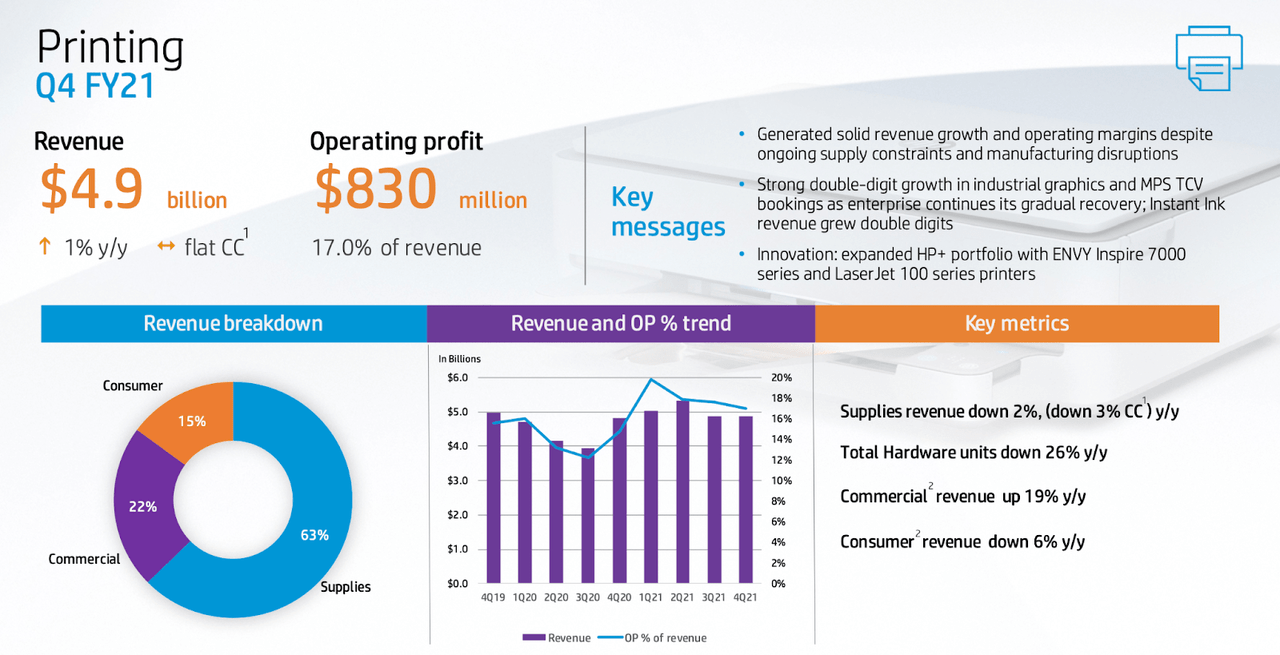 While one could argue that HPQ is a worthwhile investment in addressing supply chain issues, one could also counter that average selling prices may drop in response. The most reliable perspective may be to assume that the company remains stable.
HPQ is best interpreted as a shareholder return story. In 2021, HPQ returned $7.2 billion to shareholders through dividends and share buybacks.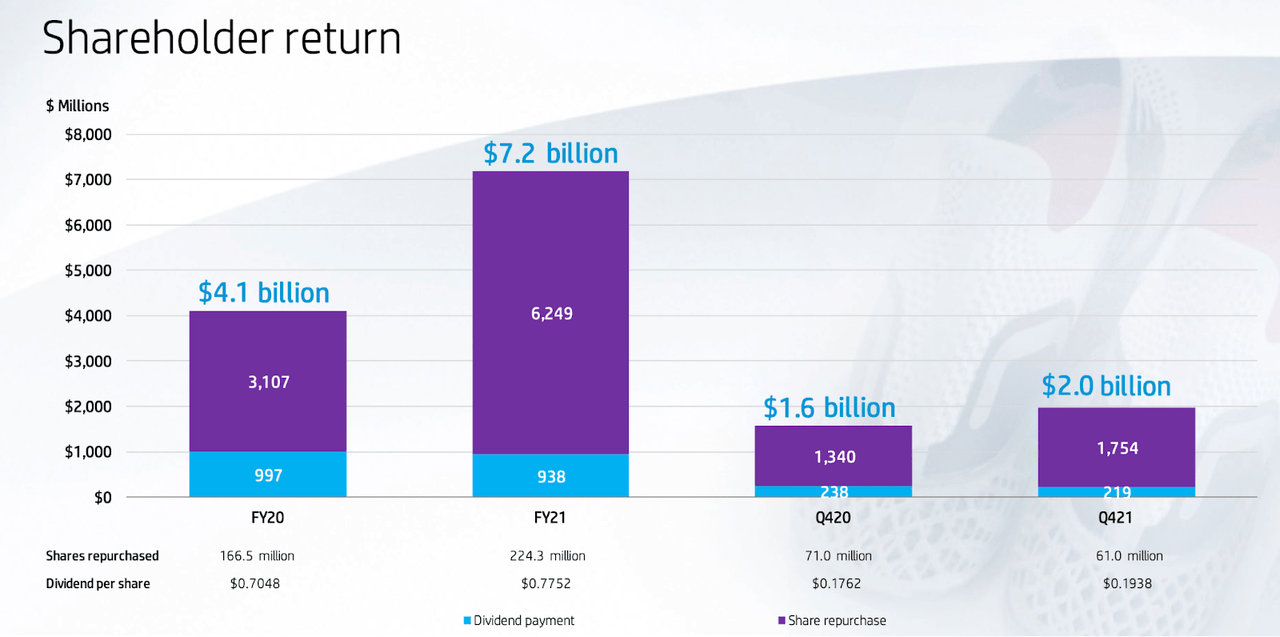 Sure, shareholder returns were boosted by the $2.3 billion earned from its Oracle litigation proceeds, but even adjusting for that, HPQ comfortably delivered a double-digit shareholder return.
I expected HPQ to have high leverage given the low earnings multiple, but it doesn't. Net debt was $3.3 billion last quarter.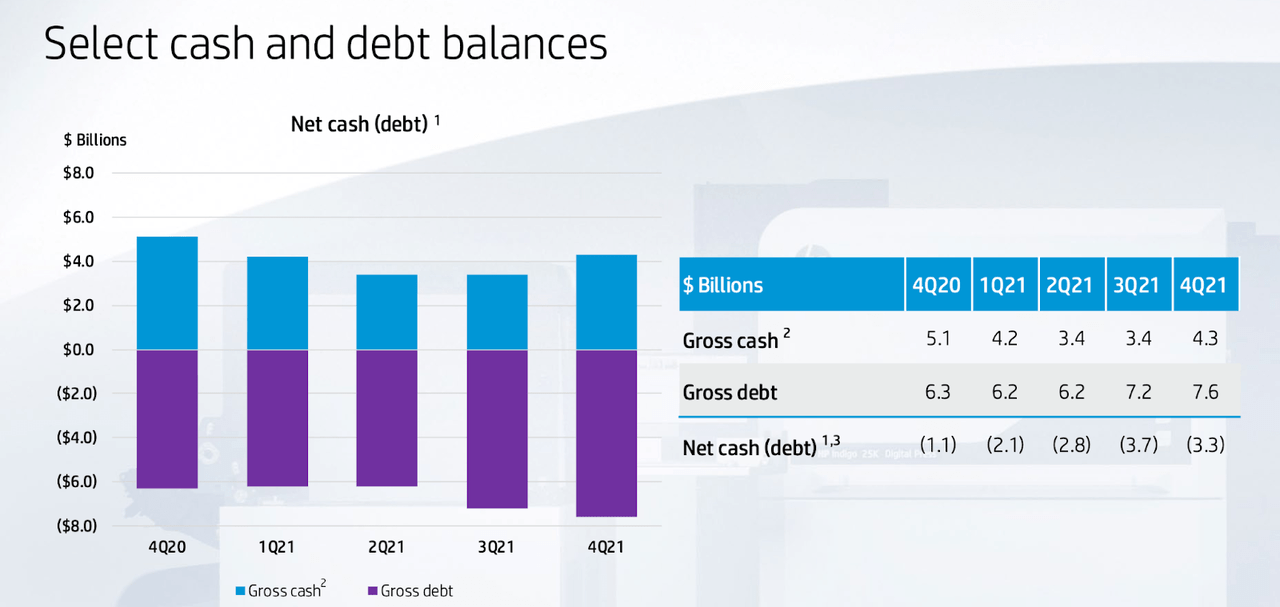 For reference, HPQ had a non-GAAP net profit of $4.6 billion. EBITDA is approximately $6.5 billion, representing a debt/EBITDA ratio of 0.5x. This is the kind of company that I could see growing up to 2x debt to EBITDA, suggesting that the company could potentially accelerate shareholder returns in the future if it chooses.
HPQ forecast next year to see non-GAAP EPS grow 12.7% at the high end.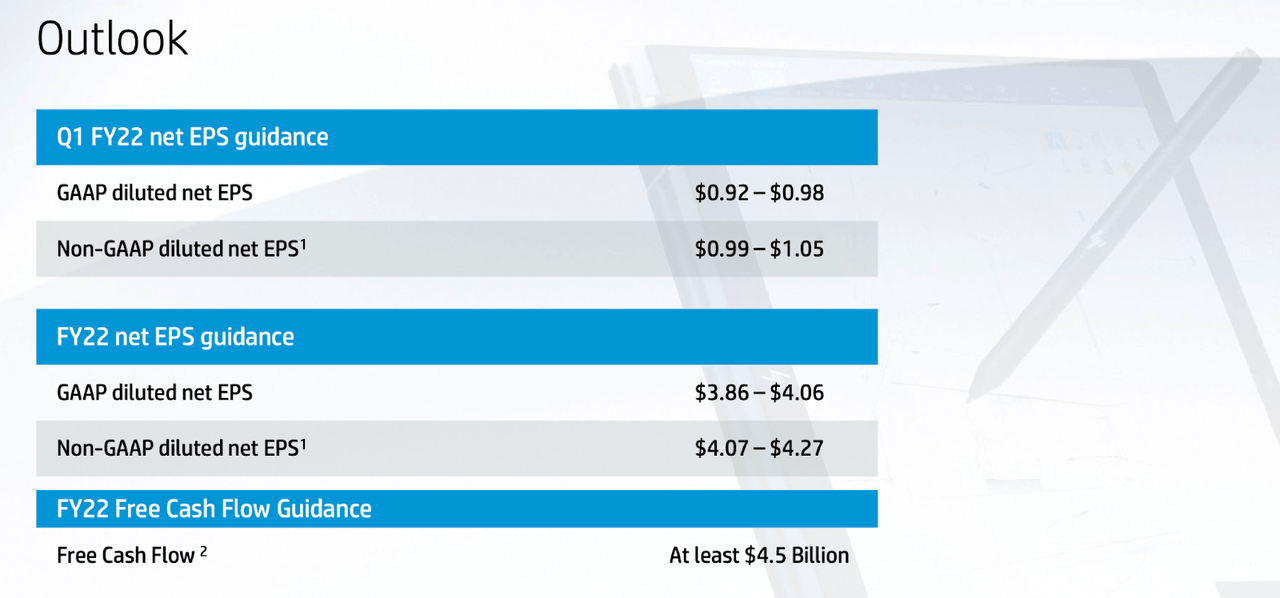 Management also said it expects to "continue to aggressively buy back stock at elevated levels of at least $4 billion." (Q4 2021 HPQ Conference Call)
Is HP stock a buy, sell or hold?
At recent prices, HPQ is trading for less than 9x earnings (using the top end of management advice). This multiple may not seem so compelling for a company that is unlikely to grow at a reliable rate over the long term, but the business appears to be fairly stable and, most importantly, the company is able and willing to return money to shareholders. through share buybacks. With the company aiming to repurchase around 10% of the shares based on current prices, there is a compelling reason to choose HPQ over cheaper value stocks. Typically, value stocks have the problem of having to wait for value to be realized. In the case of HPQ, management appears focused on immediately forcing the situation through share buybacks, which appear very sustainable given the conservative leverage profile. The main risk is that the underlying business suffers a secular decline, as operating leverage can lead to a rapid decline in profits. That said, HPQ has historically generated both consistent revenue and profit since 2014.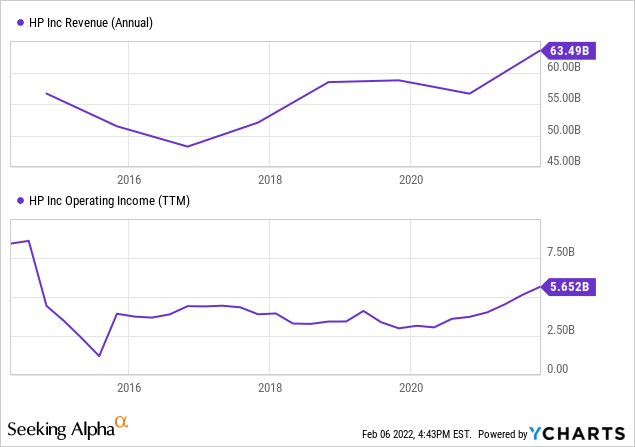 The current valuation even appears to leave additional upside potential in the event of an upside surprise, as earnings are likely to rise rapidly based on any surprise revenue growth. With stocks trading at 9x earnings and a double-digit shareholder return, I view the stock as a buy for value-oriented portfolios.