As the printing market evolved, Heidelberg, like all other analog and digital press manufacturers, had to pivot to meet new market demands. For a while their transition was a bit difficult, but they seem to have leveled off and are now expanding with an impressive line of products with more to come.
(Watch David Zwang's interview with Clarence Penge, EVP Product Management, Heidelberg US, here.)
Fund
Heidelberg, aka Heidelberger Druckmaschinen AG, has been a trademark synonymous with printing since its founding in 1850. Their fame began with the introduction of the original Heidelberg platen press commonly known as the "Windmill". Today, however, they have consolidated their leading position in the sheetfed offset market with over 40% of the market installed worldwide and 50% in the United States.
As the printing market has evolved, like all other analog and digital press manufacturers, Heidelberg has had to pivot to meet new market demands. Historically, engineering technology companies like Heidelberg have struggled to realign their products and services to changing market demands, and unfortunately some fail to do so. Fortunately, while their transition had been a bit difficult, the company is successfully implementing the transformation and Heidelberg's market capitalization has more than tripled in the last twelve months to over 700 million euros and they have come back. for trading on the SDAX stock market index.
Heidelberg appears to be on solid footing with an impressive product line-up and exciting plans for further growth. This product line includes state-of-the-art digital offset presses, flexo and hybrid presses, digital printing offerings and state-of-the-art postpress systems designed for commercial printing, label and folding box applications. All of this can be related to Prinect, their modular software solution that works like "the heartbeat" of a printing and packaging factory. On a recent trip to the Heidelberg USA head office and Print Media Center in Kennesaw, Georgia, I had the opportunity to see many of their offerings and it was impressive.
Digital offset presses
Basically, Heidelberg seeks to strengthen its strong position in the expanding packaging segment and meet the growing demand for flexible printing systems with a variety of automation solutions and variants in the commercial sector. When people think of offset presses, they inevitably imagine many operators running around a big, noisy iron machine with keys and hands covered in ink and oil. This is no longer the case; in fact, the Speedmaster XL 106, which was due to be presented at drupa 2020, was designed for the inevitable comparison to production inkjet machines. The designation "Push to Stop" reflects progress made through the digitalization of press design and operation. Some of them include automatic preset loader, plate changer, blanket and impression cylinder washing, inking and dampening setup. Importantly, it also includes Prinect Inpress Control 3 which automatically measures and controls registration and color in-line during production, thus reducing setup times and waste sheets. While I was there, they completed five jobs with 38 plate changes, including direct print, refinement, Pantone colors, and coating, all in about 18 minutes. The press operators cockpit user interface gives them access not only to press operations, but also to schedule and performance statistics.
Flexo and hybrid presses
For the growing label market, Heidelberg owns and markets 100% of the Gallus range of flexographic presses. The Gallus Labelfire 340 hybrid press was on display at the Print Media Center with a seven-color and white inline digital inkjet module running at a native resolution of 1200 x 1200 dpi with Fujifilm Dimatix Samba printheads. It prints with low migration aqueous UV ink, compliant with Swiss ordinance, Nestlé Guidance, Eupia, GMP. Of course, it also includes a semi-rotary die cutter and can be configured to suit your needs, including with an in-line digital beautification unit to create matte and glossy effects in different thicknesses.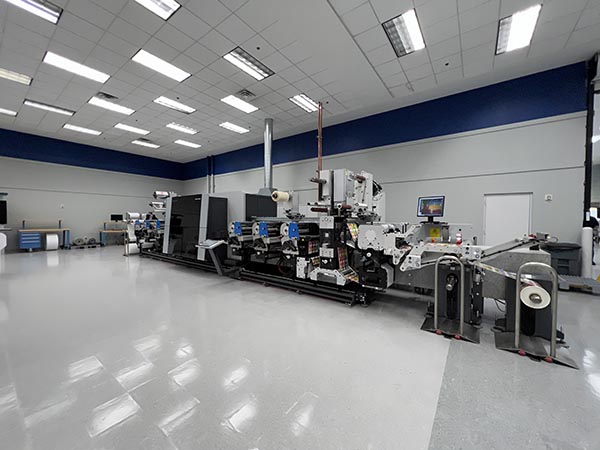 Although not on the floor of the Print Media Center, Heidelberg also manufactures a spool-fed inline flexo printing press designed for cardboard or paper up to 165 lbs. This high definition press is currently running at 2000 fpm. (600 m / min) and can be configured as roll-to-roll or cut-to-roll for high volume production. Expect further announcements later in 2022 that will take the quality and efficiency of this press to new heights.
Postpress
Heidelberg recently introduced the "Push to Stop" designation on some of its finishing equipment. On display is their Stahlfolder which has a capacity increased by 50%, the result of the digitization of orders and configuration. They also introduced automation with P-Stacker, further reducing the need for operator intervention with a robotic arm, further improving the productivity of the folder.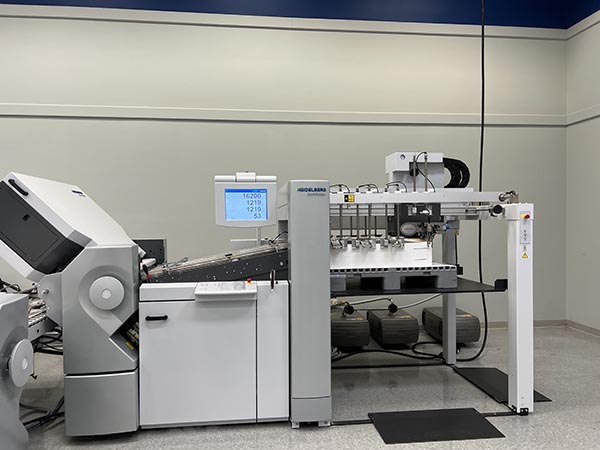 The POLAR die cutter and its process have also been digitized and automated with the introduction of new die cutting systems that can increase throughput by up to 100% and reduce labor costs.
In addition to finding entry-level postpress workers, a recent study in Europe found that postpress operators have a higher rate of missed workdays of around 40 days per year due to the arduous work of lifting and moving. heavy loads. These types of postpress automation options can provide demonstrable relief and cost savings.
For the work on the folding cartons, they displayed and used an MK of the Masterwork Easymatrix die cutter and the Diana Go folder / gluer to complete it. In both cases, the product line extends beyond the ground two.
Prinect workflow
The digitization of Heidelberg equipment enables efficiency gains throughout the printing and packaging production process. However, at the heart of it all is Prinect. Today, the Prinect Workflow solution is all about reducing touchpoints and delivering business intelligence. This includes modules that start with onboarding and processing customer orders. It then automates prepress, scheduling, two-way communication with production equipment and staff, all with the goal of increasing productivity and reducing waste.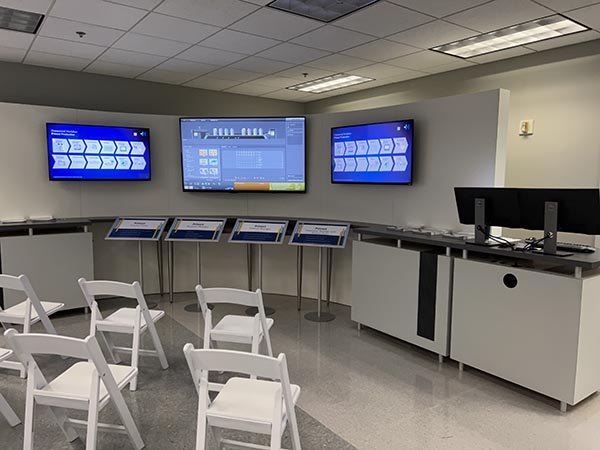 Prinect goes further by providing business intelligence. Through the process of integrating and controlling plant processes, metrics on machine and plant performance can be collected and analyzed. Prinect Smart BI is a cloud-based solution that can process these metrics and provide the print service provider with reports that can be converted into actionable goals. The Prinect Data Warehouse which resides in the Microsoft Azure cloud can also provide the printing service to compare the results of their factories with other similarly configured factories around the world. It's a great way to assess and compare performance to set improvement goals.
Yes… car charging stations
Much of what Heidelberg learned in building printing equipment, including electronics, provided them with the experience to develop new product offerings. For example, the charging technology requirements for printing presses and electric vehicles are quite similar, which is why they developed the Heidelberg Wallbox. It is a charging system for the domestic market and the semi-public sector for electric cars and is now one of the leaders in Germany, and soon beyond. Plus, they're developing printed electronics solutions, and the list goes on. It will be interesting to see where it all goes.
More than hardware and software
Over the years, Heidelberg has seen the importance of creating a "lifecycle" relationship with its customers. While most printing equipment manufacturers like to keep in touch with their customers, Heidelberg seems to go further. Heidelberg Assistant is their support offering which can include consumables, analytics, predictive monitoring, virtual and onsite training, and of course readily available support. They have found that by providing these services, they can help their clients increase their TRS and profitability.
Heidelberg has also improved its very interesting learning program to train its service and support team. The program has been around since 2007, but they recently formalized the program and increased class sizes to support the aging of some of their more experienced employees, with the goal of hiring 25 people over the next 18-24 months.
In closing
We all love to see new printing and production technologies, and developments in digital printing have provided us with this for years. However, after seeing what Heidelberg has accomplished with the digitalization of their equipment and processes, I believe they are in a great position to grow and compete in the long term.
More soon…
I would like to address your interests and concerns in future articles regarding printing, packaging and label manufacturing, and how, if any, this drives future workflows, including "Industry 4.0 ". If you have any interesting examples of hybrid and bespoke manufacturing, then I can't wait to hear about them as well. Do not hesitate to contact me at [email protected] with questions, suggestions or examples of interesting applications.