Finals week means a lot of stress for students and teachers. At the end of the semester, it's important for everyone to find a way to balance hard work with self-care. The National Alliance on Mental Illness (NAMI) offers these tips for controlling stress during finals:
Make a study plan.

Stay connected with your friends.

Get enough sleep.

Try to relax.

Exercise.

Eat well.

Don't forget that the holidays will be here soon!
Chapman has a variety of special events and services planned for finals week. Keep reading for fun activities and study boosters that will help foster success!
Finals Week Special Events
Aquarium of the Pacific
Friday, May 13, 1 p.m.
Take a study break to visit the Aquarium of the Pacific in Long Beach. Students will be able to enter the Aquarium at 1 p.m. and see different exhibits and interact with different sea animals. Tickets are free but registration is required.
Midnight Breakfast Spring 2022
Monday, May 16, 9 p.m. – Midnight, Argyros Forum
Pete the Panther and a range of Chapman performers will be on hand while students enjoy free food and drink. This event is free, but students must register for one of three time slots.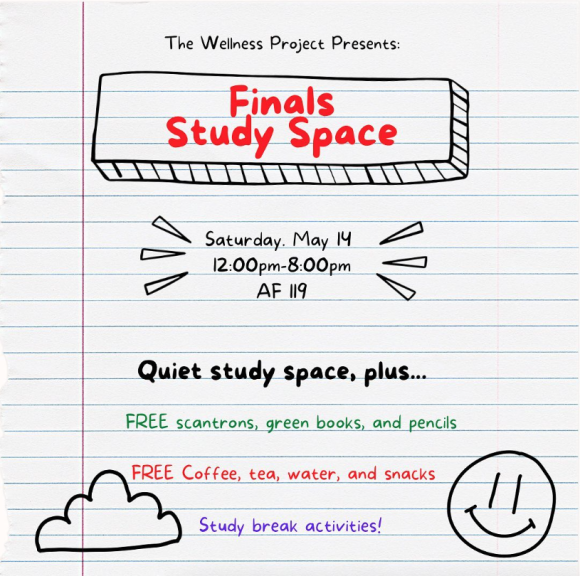 Finals study areaAF 119
Saturday May 14 from 12 p.m. to 8 p.m.
Need a place to write that paper or study for that test? stop The wellness project quiet study space – free supplies, snacks and study break activities will be provided.
Mental Health Day of Action
Thursday, May 19, 10 a.m.
Join Chapman Wellness and Recreation on Mental Health Day of Action. Engage your mind and body as you refocus on a morning yoga class on Memorial Lawn and finish it off with complimentary Jamba Juice.
Mental Health Awareness Week Fair
Mon. – Thursday, May 16-19, Rinker Campus
The first Mental Health Awareness Fair at Rinker Health Science Campus will provide opportunities to learn from faculty and staff on important self-care/wellness topics, how to raise mental health awareness and learn more about resources to help deal with stressors.
Resources for managing finals stress
Chapman YOU: This interactive resource will help you set your wellness priorities and provide support for your mental and physical well-being.
De-stress to succeed: This page curated by Leatherby Libraries offers a roundup of online games, meditation, playlists and movie streaming services to help you unwind.
10 tips for coping with finals stress: These tips from the Fish Interfaith Center will help you keep your feet on the ground when stress gets in the way.
Strategies for a Smarter Brain and Better Study: Dr. Jay Kumar offers tips and strategies in this short video.
Finals Week Hours of Service
Argyros Forum Student Union
The Student Union will be open 24 hours a day from Sunday May 15 to Thursday May 19. Stop by to enjoy services such as mobile printing, Amazon lockers, CSA boxes, study tables, music and TV.
Leatherby Libraries Extended Hours
Libraries will be open for extended hours during finals week, with all-night studies available in the Rotunda. Stop for cookies and a healthy snack option.
Main Library Hours:
Sunday

from Monday to Thursday

Friday

Saturday Sunday
Rotunda Study After Hours:
Argyros Fitness Center opening hours
Take a break from your studies and visit the fitness center, which will be open during finals week, May 17-21. Be sure to follow @chapmanfitrec on Instagram for health tips and event announcements!
Julianne Argyros Fitness Center
from Monday to Thursday

Friday

Saturday Sunday
Henley Fitness Center
from Monday to Thursday

Friday

Saturday Sunday