Information for this report comes from press releases issued by Moorfields Eye Hospital and the Fraunhofer Institute for Computer Graphics Research IGD.
A patient at Moorfields Eye Hospital was fitted with a fully digital and 3D printed ocular prosthesis in late November. He is the first patient in the world to have a 3D printed eye as his sole prosthesis, says the London Hospital.
An additively manufactured eye is more realistic than acrylic models, and the orbit measurement before 3D printing is less invasive. The AM production process is also faster. Traditional acrylic prosthetic eyes are handcrafted and take approximately six weeks.
With 3D printing, once the scan is done, the prosthesis can be printed in about two and a half hours. It is then sent to an ocularist for finishing, polishing and adjustment. The whole process takes two to three weeks.
"We are excited about the potential of this fully digital prosthetic eye," said Professor Mandeep Sagoo, consultant ophthalmologist at Moorfields and professor of ophthalmology at the hospital's research center. "We hope that the next clinical trial will provide us with strong evidence of the value of this new technology, showing what a difference it makes for patients. It clearly has the potential to reduce waiting lists.
The patient, Steve Verze, who is in his 40s, said: "I have needed an ocular prosthesis since I was 20, and I have always felt embarrassed about it. When I leave home, I often take a second look in the mirror, and I didn't like what I saw.
"This new eye is fantastic and being based on 3D digital printing technology it will only get better. "
Preparation for printing
Sagoo said the Verze prosthesis is the culmination of four years of development by Moorfields, the UCL Institute of Ophthalmology, Fraunhofer IGD and Ocupeye Ltd.
Eye prostheses are recommended when an eye has been surgically removed following a serious injury, for example, or when a patient is suffering from a fatal disease such as eye cancer. Such conditions afflict over 8 million people around the world.
The method of measuring a patient's orbit and fabricating a prosthesis has remained virtually unchanged for decades. Taking an impression of the patient's eye socket can be uncomfortable for adults and painful for children.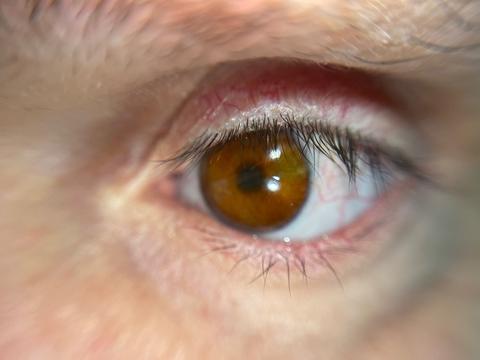 Verze's initial 3D prosthesis appointment began with a non-invasive, non-ionizing 2.4 second scan by a modified ophthalmic scanner. The scan of the eye socket and the calibrated color image of the healthy eye were then digitally transferred to Fraunhofer.
Then the Fraunhofer's Cuttlefish: Eye software created a 3D model from the data, which was sent to additive manufacturer FIT AG. The company printed the prosthetic eye on a multi-color, multi-material 3D printer controlled by a Cuttlefish universal 3D printer driver.
Monitoring, looking to the future
Each step of the new manufacturing process has been subjected to strict quality controls. For example, the Cuttlefish: Eye software was certified as a Class 1 medical device. And extensive biocompatibility testing was performed on 3D printing materials before the UK Medical Regulatory Agency gave its approval. .
Forty patients will be fitted with 3D printed ocular prostheses for the clinical trial. They will be examined several times by qualified clinical staff over the course of a year and will report on their experiences.
The trial is an important step in helping project partners achieve their goal of establishing a global network of clinics and 3D printers to meet the needs of patients who may benefit from ocular prostheses.