According to a new report published by Grand View Research, the growth of this market is attributed to a limited number of organ donors, increased investment in R&D and advances in technology.
Overview of the 3D bioprinting industry
The global 3D Bioprinting Market size was valued at USD 1.7 Billion in 2021 and is projected to reach USD 5.3 Billion by 2030, registering a CAGR of 15.8% from 2022 to 2030.
The growth of this market is attributed to a limited number of organ donors and an increasingly aging population suffering from chronic respiratory diseases. Rising R&D investments, technological advancements and increasing incidence of chronic diseases are other vitally impacting attributes that are likely to drive the market growth during the forecast period. The 3D printing community has responded to the COVID-19 crisis by pledging to support the production of life-saving medical equipment for hospitals battling this pandemic.
Gather more insights into the market drivers, restraints, and growth of the Global 3D bioprinting market
The recent COVID-19 pandemic has spread across the globe, with even health systems overstretched. So, in reaction to the rise in coronavirus cases, various 3D bioprinting communities are responding to global crises by offering their respective skills to ease the burden on the supply chain and governments. As the cases of COVID-19 are increasing day by day, there has been a shortage of materials for medical professionals as well as the general public. One of the biggest issues is the lack of availability of test kits for COVID-19. Therefore, various 3D bioprinting companies are manufacturing 3D printers and related software on a large scale. For example, the Massachusetts, US-based company Formlabs is reportedly manufacturing 100,000 nasal swabs for COVID-19 testing every day. Due to the steady increase in COVID-19 cases, the demand for 3D bioprinters is increasing and the global 3D bioprinting market is expected to grow exponentially.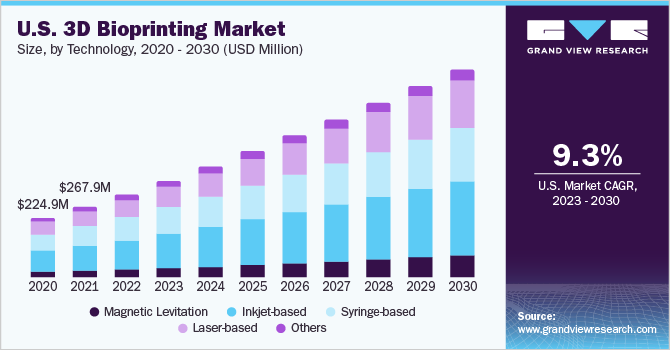 The coronavirus pandemic has also accelerated the development of drug and vaccine tests, as scientists harness new technologies for safety testing in patients after preclinical trials are complete. With the ever-increasing cases of COVID-19, the medical world is also facing a shortage of respirators and ventilators. 3D bioprinting technology is helping to manufacture respirators and ventilators to overcome the shortage of these devices.
Recently, CLECELL, a 3D bioprinting company, created a respiratory epithelium model using its proprietary U-FAB 3D printer, along with other bioprinting technologies. The respiratory epithelium is a type of tissue that lines most of the airways. This epithelium acts as a barrier against pathogens and foreign particles. However, it also prevents infections and tissue damage with the help of the mucociliary elevator. Therefore, with the increase in demand for this respiratory epithelium model, the 3D bioprinting market is expected to witness growth. With these innovations, the market is expected to witness higher growth over the forecast period.
Many biotherapeutic companies are using 3D bioprinting technology to accelerate COVID-19 research. For example, Viscient Biosciences has used 3D bioprinting technology to create lung tissue that supports research into viral infectivity and helps find effective therapy against SARS-CoV-2, the novel coronavirus that causes COVID-19. . The Wyss Institute at Harvard University has designed a fully injection molded nasopharyngeal swab in collaboration with partners from healthcare, industry and other research institutes.
3D bioprinting is seeing large-scale demand with the increasing spread of COVID-19 infection. Therefore, many pharmaceutical and biopharmaceutical participants are coming forward to help healthcare workers, doctors, and scientists in any way they can. For example, Stratasys, which is one of the leading manufacturers of 3D printers in America, has made face shields using a 3D bio-printer. Through March 2020, they have shipped 100,000 face shields to the United States
Segmentation of the 3D bioprinting market
Based on Technology Insights, the market is segmented into magnetic levitation, inkjet-based, syringe-based, laser-based, and others.
The magnetic levitation segment is expected to grow with the fastest CAGR of 14.2% during the forecast period. The lucrative growth can be attributed to the profitability associated with the technology.
The inkjet-based segment accounted for the largest revenue share of 36.0% in 2021, as it enables the printing of complex living organs or tissues on the culture substrates using biomaterials like bio-inks.
Based on Application Insights, the market is segmented into medical, dental, biosensors, consumer/personal product testing, bioinks, and food and animal products.
The medical segment led the market by application in 2021, with a share of 36.8%, and is expected to grow with a CAGR of 15.6% during the forecast period.
The tissue and organ generation sub-segment is expected to grow with the fastest CAGR of 15.6% in the market during the forecast period. 3D bioprinting is most widely used to regenerate drugs to address the need for regeneration of organs and tissues suitable for transplantation.
Based on the regional information, the market is segmented into North America, Europe, Asia-Pacific, Latin America, Middle East & Africa
In Asia-Pacific, the market accounted for a 23.7% revenue share of the 3D bioprinting industry in 2021 and is expected to maintain its dominance during the forecast period.
In North America, the market captured a revenue share of 31.6% in 2021 and is expected to lead throughout the forecast period. The growing incorporation of IT in the healthcare industry is estimated to drive the market growth over the forecast period.
Explore medical device industry reports from Grand View Research
Biosensors market– The global biosensors market size was valued at USD 24.9 billion in 2021 and is projected to grow at a compound annual growth rate (CAGR) of 8.0% from 2022 to 2030. The demand for biosensors is increasing owing to a variety of medical applications, a growing diabetes population, a high need for small diagnostic devices and rapid technological improvements.
3D Cell Culture Market – The global 3D cell culture market size was valued at USD 1.5 billion in 2020 and is expected to grow at a compound annual growth rate (CAGR) of 10.7% during the forecast period. As 3D cultures can closely mimic typical organ morphology and microarchitecture, they are widely used in studies that require in vivo model systems to analyze the effects of a foreign drug on body tissues and organs.
Market share overview:
November 2019: CELLINK has developed the most advanced 3D bioprinting device, Bio X6, as well as Lumen X, which produces vascular structures.
November 2019: BASF GmbH has acquired Sculpteo, a provider of 3D printing services. This acquisition should help BASF to market and establish new industrial 3D printing materials more quickly.
Profile of key companies:
Key companies emphasize research and development to develop technologically advanced applications to gain competitive advantage.
Some of the major 3D bioprinting market players include:
EnvisionTEC, Inc.
Organovo Holdings, Inc.
Inventia Life Sciences PTY LTD
Poietis
Vivax Bio, LLC
Allevi
Cyfuse Biomedical KK
3D bioprinting solutions
France
Regemat 3D SL
Order a free sample PDF of the 3D Bioprinting Market Intelligence Study, published by Search Grand View.
About Grand View Research
Grand View Research is a full-time market research and consulting firm registered in San Francisco, California. The company offers comprehensive, customized and syndicated market reports based on in-depth data analysis. It also offers consultancy services to business communities and academic institutions and helps them understand the global and business scenario to a great extent. The company operates in a multitude of fields such as chemicals, materials, food and beverages, consumer goods, healthcare and information technology to offer consultancy services.
The Web: https://www.grandviewresearch.com
Media Contact
Company Name: Grand View Research, Inc.
Contact person: Sherry James, Corporate Sales Specialist – US
E-mail: Send an email
Call: 1888202951
Address:Grand View Research, Inc. 201 Spear Street 1100 San Francisco, CA 94105, USA
City: San Francisco
State: California
Country: United States
Website: https://www.grandviewresearch.com/industry-analysis/3d-bioprinting-market